There's a lot of work that goes into building your own basement bar. Choosing the furniture, the decorations and the design are just some of the things that need your attention. One of the important things that you also need to think about is the bar top.
Being the surface of the bar, and probably one of the spots that you and your friends will be spending a lot of time with, it's important that the bar top design you choose can tie together the whole look of the place.
Personally, I suggest that you make your own bar top as it will allow you flexibility when it comes to choosing the design and material.
Materials
There are a couple of different materials that you can choose from. Knowing your options will allow you to choose the material that will best fit the overall feel of your basement bar.
Solid Wood – The great thing about wood is that it's timeless, so feel free to choose this material no matter what your theme is. There are different kinds of wood to choose from including oak, teak, maple and walnut. Some people advise against choosing oak as it might turn black with water but it actually depends on how well it was sealed and stained.
Bar Top Epoxy – Using epoxy is a great way to personalise a bar top. You can use pictures, coins, cards and other flat objects and preserve them under the epoxy mixture. We recommend the Environmental – Castin' Craft EasyCast Clear Casting Epoxy.  For more information on how to apply epoxy resin to bar tops, watch this video:
Granite Slab – Granite is a kind of stone used in many kitchen counters, and you can use it for a bar top too. Granite slabs are generally expensive, but you wouldn't spend a lot if you only need a slab for the bar top. Granite slabs comes in a many colors so you have to know exactly what look you want to achieve.
Kiln-Formed Art Glass – I fell in love with glass counter tops the first time I saw one. While some people prefer low-iron (water clear) glass, you can always go the extra mile and use a kiln-formed art glass. These glasses were melted over a certain form to create patterns such as swirls or waves.
Glass with LED Lighting – These are the kind of bar tops that business establishments usually use. This bar top idea is considered modern, so be careful when deciding on this – it has to fit your theme or it won't work. Some people prefer white LED but you can also use RBG lights which allows you to change the color of the lights whenever you want.
Recycled Glass – Using recycled glass is a great way of creating a beautiful bar top and help Mother Earth at the same time. Discarded bottles are crushed and then mixed with resin to create amazing bar tops that are conversation pieces at the same time. Some manufacturers make customized bar tops from recycled glasses at a very low prices.
Soapstone Slabs – Soapstone has been used for ages. Historically, it was used for pots, pans, wine glasses and even statues. In modern times, soapstone is being used for countertops, kitchen tops and bar tops. People love soapstone for its rich-grey color, which actually looks at lot like granite. Soapstone is also very affordable, although disadvantages include being prone to cracks and scratches and need for regular maintenance.
Stainless Steel – Some people thought that stainless steel only look best on the kitchen, but more and more bars are actually using it now. The great thing about stainless steel is that it only needs minimum maintenance and it does not stain, scratch or get dirty easily. If you're the kind of person who doesn't like high maintenance, this is the perfect option for you.
Ceramic or Glass Tiles – Modern technology has given us great-looking tiles that look amazing on countertops. Tiles nowadays can be made to look like onyx or marble, which allows us to save and still have something that looks truly beautiful. The only downside with tiles is that grout lines can get dirty easily, although a lot of cleaners have been proven effective for this kind of dirt.
Some Amazing Bar Top Ideas
If you still haven't decided on a design, here are some amazing bar top ideas you can draw inspiration from: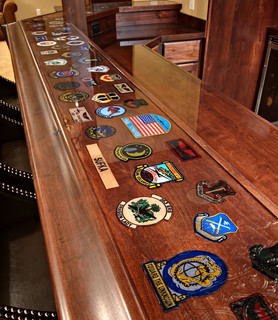 If you have patches that you'd like to display, why not put them under the bar for everyone to see? Pouring clear epoxy on your bar and forever preserving your patches is a great way to show how proud you are of them.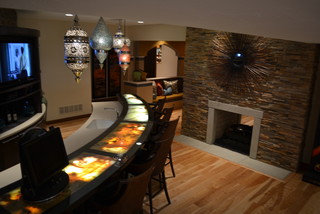 A lighted bar top is a unique way of designing the bar. I'm sure the gentle illumination is a great way to invite someone to a drink and a chat.
This is actually a breakfast bar made of vintage rulers but I see no reason why you should not apply the same design to your bar top. These rulers are fairly inexpensive and you can buy them online or from vintage stores.
The Jockimo Liquid Lava Line are tiles made up of highly durable material which bursts to life when pressured is applied, creating a different design after everytime.